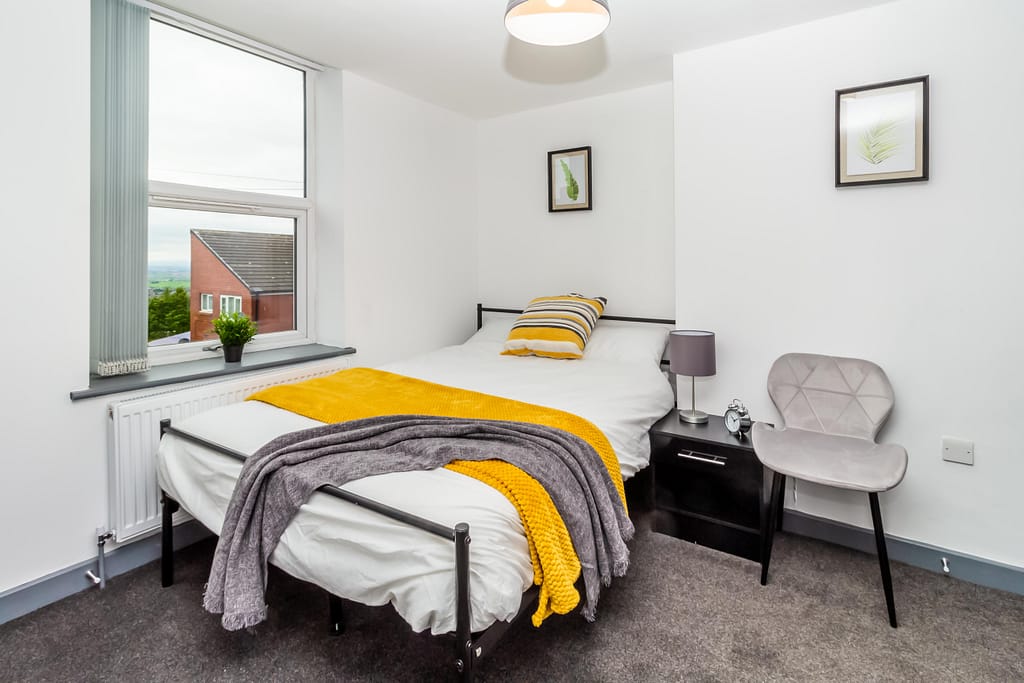 I'm often asked about furnishing and dressing HMOs. Especially, how to save money when doing it. Quite often, by the time you come to furnishing and dressing the property, the money can be running out, so here are some tips on how to save money at this stage of the project. First let's talk about furnishing and then move on to dressing. These tips have come from my own experience as a HMO landlord but also from what I have seen my property photography clients successfully do.

The specialist landlord furniture companies usually provide high quality fully-erected furniture. They even take the packaging away. These companies can be a great solution, but of course, it comes at a price. I recently saved over £1,500 furnishing just 4 rooms in a HMO when comparing what I paid versus the price from a landlord furniture specialist. However, you do need to make a further investment, your time to erect it all! But if you are a bit handy, cash poor, time rich, and don't get too frustrated, it can be a big money-saver.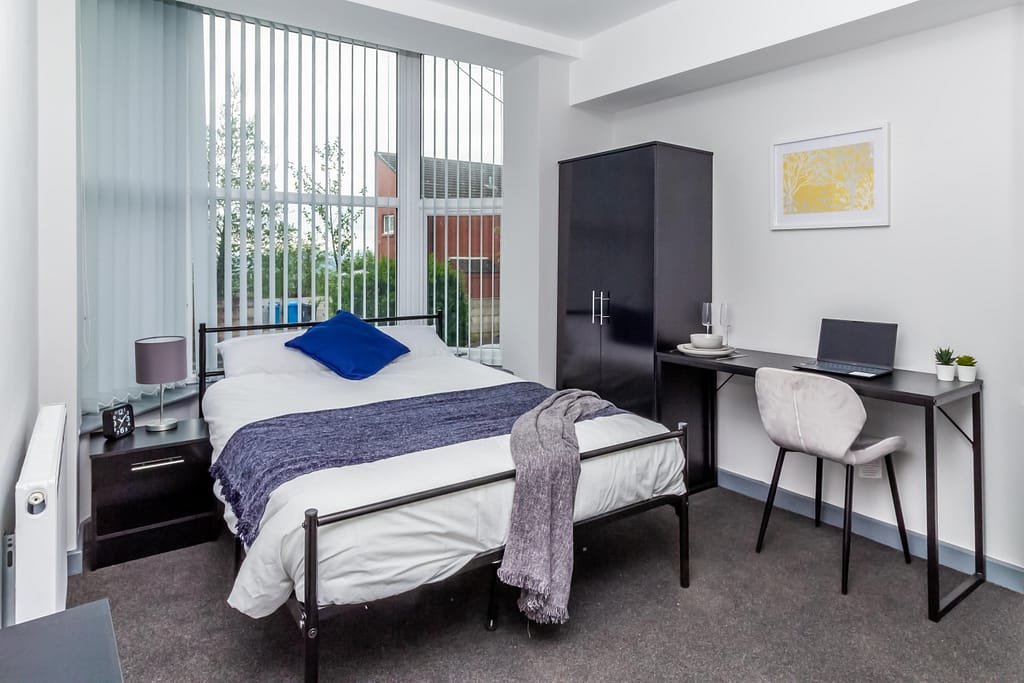 A top tip, when erecting the furniture is to use PVA glue on all the joints (use the packaging to protect the carpets from splashed glue), along with the fixings provided. This makes the furniture more robust. It's always worth investing some of your time to shop around for the furniture. I was impressed with onbuy.com,  where I have bought furniture sets for £150, 3 seater sofas for £95 and desks for a little over £50. I know some people who have done well furnishing and dressing properties from charity shops, however, this not something I've tried. Discount shops like B&M Stores can be good for both furnishing and dressing your properties, especially when they have a sale on. I don't think I have bought a lampshade from anywhere other than B&M Stores in a very long time!

One golden rule of furnishing an HMO room is: Do Not Skimp On The Mattresses.  This is a false economy. However, you don't have to buy the most expensive either. I quite like the Fogarty mattresses from Dunelm Mill. They balance price and a good night's sleep.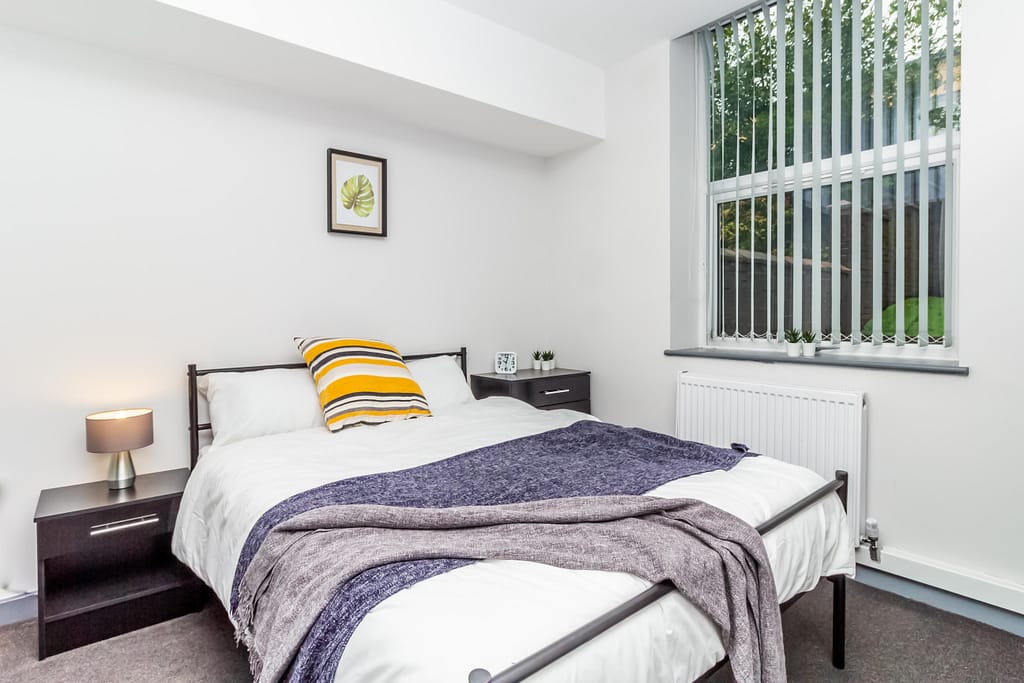 Once your room has the furniture, then you can start to think about the dressing. Firstly, don't go overboard with the dressing, less is often more! You can use things you already own and just move them around. I usually use plain white bedding sets and then add the colour with throws and cushions. I usually use the cheapest bedding sets from Argos (not great to sleep in but look fine in the photos). The pillows can be a bit thin but you can just buy some more cheap Argos pillows and put 2 in each pillow case. The stores I like for dressing items are B&M, Dunelm, Argos and Ikea. Another option is the big supermarkets such as ASDA or Sainsbury's where most of the furnishing and dressing has high design qualities, but with much lower price than elsewhere. If you know you have a project coming up and the shops have a sale on, it can be worth stocking up!

A cheap and effective way to create artwork is to buy cheap frames from places like B&M and then fill them with off cuts of wallpaper or create your own artwork with famous quotes or the property postcode for example. Some people love them and others hate them, but I often use Ikea artificial plants in my dressing – certainly a lot less messy than the real thing and they add a lot to a photo. If you have desks in your properties, perhaps use notebooks and pens or use your own laptop just for the staging of the photos.


For kitchens, tea towels and oven gloves can be a cheap way to add colour. If you have your own cook books, why not use some of them. Set the table with plates, cutlery and glasses. Bottles of wine work well in the dressing (plus gives you a well-deserved reward at the end of the project!).
How many rooms do you need to dress? You will probably not need a full dressing kit for every room as you may be able to move the kits between rooms for photographs, perhaps using different variation of cushions and soft furnishing each time. If you are using a professional property photographer or Virtual Tour specialist, ask them for advice. All of the Landlord Photography offices would be happy to talk this through with you.
I hope you have found these tips useful and you have got some ideas on how to save some money on your next project.